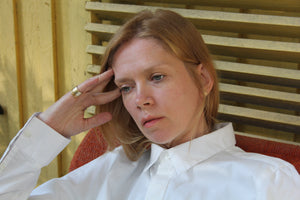 Siehe Dir den Dokumentarfilm über unser Label und Reet Aus auf YouTube an
FROM FAST FASHION TO FIRST FASHION
Auf unserer Reise haben wir gelernt: Die Massenproduktion abzuschaffen, werden wir (vorerst) nicht schaffen. Aber sie zu revolutionieren! Und zwar genau dort, wo das Problem entsteht: in den Modefabriken selbst.
INDUSTRIAL UPCYCLING nennt sich das von uns entwickelte System, bei dem aus den ungenutzten Stoffen der Modeindustrie unsere Kollektionen entstehen. Logischerweise immer als LIMITED COLLECTION, denn sobald wir eine Charge Stoff aufgebraucht haben, ist hier der LIFECYCLE geschlossen.
Aber damit ist nicht Schluss:
Nachmachen ist absolut erwünscht. Deshalb machen wir unser System als Zertifikat UPMADE für alle Brands und Produzenten zugänglich.
BE FIRST WITH OUR
UP-SHIRTS
WER BIST DU: FASHION FAN? EARTH LOVER? … BEIDES?
Wir sind REET AUS, ein SUSTAINABLE FASHION LABEL aus Estland. Wir wollen die Lust auf Mode retten – und damit unseren Planeten. Den hat Mensch nämlich mit der Massenproduktion von Fast Fashion Jahrzehnte lang herausgefordert.
Nun ist es umgekehrt: PLANET EARTH fordert uns heraus.
CHALLENGE ACCEPTED!
Das Ziel von REET AUS: null Verschwendung von Ressourcen für 100% Lust auf NEW LOOKS! Dazu musst du wissen, dass in der Fast Fashion Industrie normalerweise 25-40% der nagelneuen Kleiderstoffe als Schnittabfall und Rollenreste ungenutzt auf dem Müll landen.
Nicht normal? Finden wir auch. Also machen wir was draus! Relaxte DESIGNER KOLLEKTIONEN, von denen du ruhig behaupten kannst, dass sie aus den wertvollsten Stoffen der Welt gefertigt sind – weil sie nicht weggeschmissen werden.
Reet Aus Webshop oder Zalando Plattform
Direkt bei uns shoppen
Entdecken Sie die gesamte Reet Aus Kollektion in unserem Webshop.
Genießen Sie die Authentizität und Transparenz des Kaufs direkt bei uns – Versandkosten sind klar ausgewiesen, damit es keine Überraschungen gibt.
Direkt bei uns shoppen
Bei Zalando bestellen
Nutzen Sie Zalando für einen bequemen Einkauf mit kostenlosen Versand.
Beachten Sie, dass sich unsere Kollektion bei Zalando auf ausgewählte Stücke konzentriert.
Bei Zalando bestellen