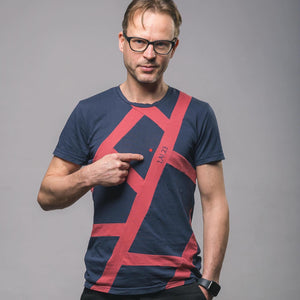 We make ethical and sustainable corporate shirts, uniforms and accessories from textile industry leftover fabric.
Available for small and large teams
Reet Aus is proudly worn by over 50 organisations
Ajujaht
Small team – we made under 30 shirts
Pipedrive
Global or large teams - we made 641 shirts
Estonian Song & Dance Celebration
Mammoth events and teams - we made a total of 35,000 shirts
Choose sustainable and environmentally friendly company clothing
Did you know?
Corporate T-shirts that are manufactured in a regular factory produce up to 40% of (textile) waste. Meaning that almost half of the fabric acquired for the T-shirts goes to landfill or will be utilized in a non-environmental way. 
About the garments
Save on average 75% water, 88% energy and produce 80% less CO2
All Reet Aus garments are with UPMADE® certificate - made using only textile leftovers.
Benefit
Why choose sustainable corporate clothing?
Experience has shown that sustainable practices and initiatives lead to a better brand image, higher productivity, happier investors, reduced costs and create countless competitive advantages.
Reet Aus is proudly worn by
Clothing
Formal wear
In addition to T-shirts, sweatshirts and corporate clothes, Reet Aus also designs formal wear. In the photo Estonian president, Kersti Kaljulaid is wearing a custom-made Reet Aus dress.
Reviews
Feedback from companies wearing Reet Aus
★★★★★

We wanted our company clothes to last for years and to match our values. Therefore, it was a straightforward choice to start a collaboration with Reet Aus
★★★★★

Choosing Reet Aus up-shirts was an obvious choice for Pipedrive and our staff proudly wear them in all our offices around the world.
★★★★★

We are growing at a fast pace, so it is important to us to take into account the environmental impact that comes along with us operating as a business. /-/ When deciding where to order our company's T-shirts from, Reet Aus was a natural choice.
★★★★★

Reet´s sustainable approach to fashion's problem with mass production coincides with our band's aspirations to re-use traditional folk music to create new music.
★★★★★

We wanted to create a hotel that is kind to the planet. /--/ Therefore, Reet Aus was an obvious choice for our uniform.
Let's save the planet, together
Contact us and we will take care of your inquiry.